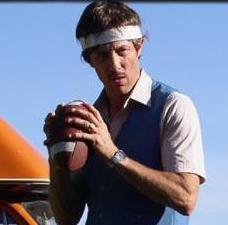 According to
this lengthy profile
of superhuman 6ft-7 Wolverine-turned-Hawg QB Ryan Mallett from the Arkansas Democrat-Gazzette, he throws a football faster than any major league pitcher throws a baseball - 115 mph. No word on whether he can throw the pigskin a quarter mile.
Color me skeptical, as the source seems to be one of Mallett's teammates:
"Ryan Mallett has the strongest arm in college football ," said All-SEC tight end D.J. Williams. "I've caught some balls that I had to take my gloves off because he ripped all the sticky stuff off of them." Williams said the Razorbacks have timed Mallett's throws at 115 mph with a Juggs gun.
What I imagine a
Juggs gun looks like
(mildly NSFW).